Welcome to the 'Golden Age' of
the agriculture industry; welcome to Punarvasu.
From the house of Shree Shubham Logistics, one of the leading players in post-harvest value chain industry for agri-commodities, comes another pioneering product in the form of Punarvasu. A registered non-banking financial institution that gives wings to the dreams of market participants – farmers, traders, processors and body corporates – in the commodity business through short-term loans provided against their commodities deposited in warehouses.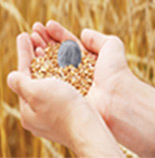 True to its name, Punarvasu heralds a new dawn in the lives of millions of market participants by helping them harness the full potential of their business. Loans are provided against warehouse receipts/ storage receipts/e-lots to participants involved in the commodity business, backed by the pledge of underlying agricultural commodities, including those maintained in the E-Lot form under COMTRACK arrangement on NCDEX.
This unique arrangement enables commodity business participants including farmers to optimize available resources to their fullest and not succumb to distressed valuations for their commodity stock. With its services, Punarvasu aims at empowering the midstream agri-value chain by enabling the players to procure and store large quantities during season and ensuring a seamless supply through out the year or processing and selling them at favourable times.
Punarvasu Holding & Trading Company Private Limited, a NBFC registered with RBI was acquired by Shree Shubham Logistics on 31st of December, 2014, to directly provide funding facilities to participants in the post-harvest agri-commodities.